There are many popular and great chat tools...

But NOT for your business!
What do you use for your Business?
There are multiple consumer tools, with a consumer use model and a security model that even consumers are alarmed by: 
Monetizes by using and sharing your information
You have no control over your content once it's been sent
Rudimentary storage and search at best
No business continuity nor leakage control when a recipient leaves. 
It's time you switched to a better tool than the one you use for fun and entertainment – a chat platform designed with your business needs in mind!
An innovative, powerful chat platform designed from the ground up as a business tool:
Seamless collaboration experience
Extended information management functionality which goes beyond mere chatting to create long-term business value.
A whole new level of information security and rights management.
A smart chat platform for the 21st Century.
HyChat provides seamless collaboration
Full chat functionality
Full video conferencing functionality
Create unique conversation threads for each topic within a team
Schedule meetings and reminders for multiple stakeholders
Find groups, threads and messages easily with our unique
tag-enabled search feature
Share data at the click of a button
HyChat converts chats into long-term value
All your chats persist in a robust, instantly searchable repository
Retain and organize conversations in multiple folders, with multiple tags, for ease of later retrieval
Access years' worth of your past work as if it happened yesterday
Transfer chats from an old employee to a new or re-assigned one to ensure continuity
HyChat is secure: your information, your rules!
End-to-end encryption, in storage and in transit
Brought to you by a team with over 15 years' experience working with HIPAA and other security protocols
Retain control over chats: restrict a receipient from copying, editing, sharing, or storing data in their device
Remove chats of an employee when they leave the company
Allows confidential/ hidden chats
All content can be stored safely on your servers inside your firewall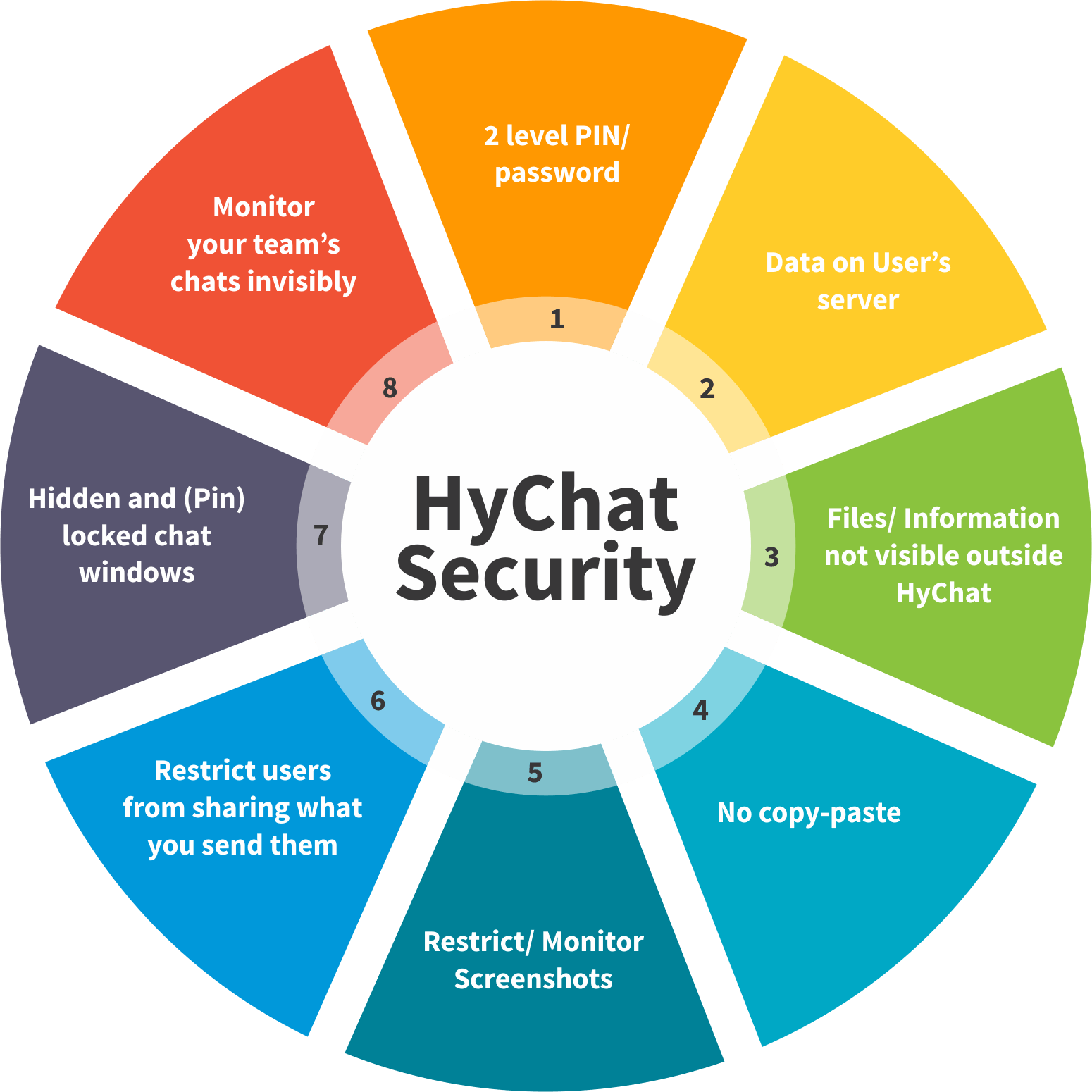 HyChat – A powerful business chat platform that is designed with businesses in mind
Confidential and hidden chat (password protected)
Limit whether the recipient can copy, edit, forward or store locally
Create your own folders to store your messages.
Smart virtual folders that merge chats from multiple groups to one view – eg city sales chats merged to form state sales
Easily transfer content from one employee to the next for business continuity
Option to host all data on your own cloud server
Tag and organize all your chat conversations
Create local encrypted backups
Powerful search functionalities
Tag-enabled search to quickly locate what you are looking for; create your own tags
Conversation thread-based search
I invite you to try HyChat and use it across Android, iOS or the web version with real time data sync.
Get a Good Idea about HyChat
Subscribe to our Newsletter