Information management is a crucial part of an organization's working, as it deals with the acquisition, management, distribution and disposition of information within the organization. Various important roles and functions of an organization depend on information management. It is essential for improving and simplifying business processes, taking effective decisions and appropriate actions and getting meaningful results.
The sphere of information management is undergoing constant improvements with the advent of technological innovations and advancements. There was a time when information management used to take place with magnetic tapes, punched cards and other record-keeping media, names of which don't ring a bell in contemporary times. Traditional information management systems were technologically handicapped, excessively procedural and adverse for an organization's productivity.
On the other hand, modern information management software/app like HyLyt help in saving time and boosting productivity through the use of smart technological solutions to minimize human interventions and provide hassle-free, real-time information exchange.
Adapting to Modern Information Management systems like HyLyt is imperative for an organization's work in the 21st century. Here are some significant advantages that HyLyt provides over Traditional information management:
1. Simple yet Secure Technology
HyLyt is a modern technological innovation that can be accessed through a web portal or the app on almost any device, ranging from a desktop to a mobile phone. Its friendly user interface simplifies multiple complex processes, which used to hamper the productivity of work before.
HyLyt is a one-stop solution for information management. Creating, processing, sharing, managing and storing information can be done at a single click.
But dealing with a lot of data can be a risky and responsible task. That's why HyLyt supports the end-to-end 256-bit encryptions with multiple factor security authentications. Other features include the ability to lock folders and files, option to restrict employees from sharing or taking away information crucial to a company. Basically, the enterprise has complete control over the use of information on this platform.
2. Keeps things organized
HyLyt allows you to sort data using different colour stickers and also helps you to integrate information required from multiple sources. It can even send you messages as reminders for work and also search for files through the search bar provided on the platform.
It enables collaboration through the creation of groups and allows the broadcast of information to all users through a single click. Transfer of data from an old employee to a new employee is also possible in almost no time on HyLyt.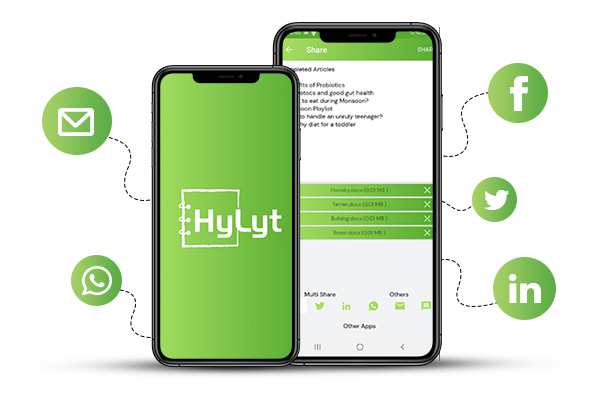 3. Social Media integration
Social media is a great way of letting customers or neutral viewers know about the latest updates regarding your organization and its products or services. Exciting announcements or project updates need to be shared regularly to build a social media brand of your business as well.
Keeping the importance of social media in mind, HyLyt allows instant sharing of files and information on social media. That is why HyLyt is an upgrade on traditional Information Management systems, which either didn't consider social media as important or required manual posting of updates on social media separately.
4. Cloud Storage
With the advent of paperless work in modern work culture, accessing files remotely with the help of cloud storage is the new norm. It allows employees to access files from anywhere and work when the need be.
HyLyt, with its advanced features, allows cloud storage in a safe and secured manner as well. It is an inexpensive storage solution, which helps save disk space and makes information management within an organization more accessible.
All these features, together with many others, make HyLyt the one-stop solution for all the requirements of an office environment. It keeps the information and work within an organization flowing, leading to more efficiency, productivity and better results.