Effective business communication is a success enabler for every company in every layer across every sector. After all, when staff and management interface with each other efficiently, the processes improve, leading to better output, minimal errors, and realization of organizational objectives. Effective communication is also linked to better strategy and implementation, order fulfilment, selling, cross-selling and up-selling, shaping innovative business ideas and more.
New trends in business communication are on the threshold every so often. As per the Computing Technology Industry Association study, 28% of respondents primarily blame poor communication for project delays. Courtesy Watson Wyatt, businesses with effectual communication practices could restrict their staff turnover levels below the industry average. Another study links connected employees to 25% improvement in overall productivity.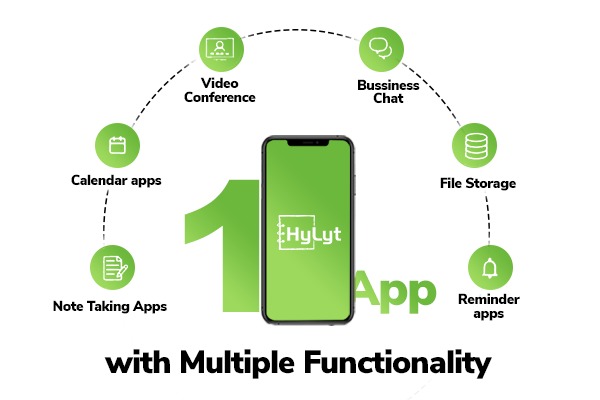 HyLyt by SocioRAC make your communication seamless and help your organization succeed. It's more than just a unified information management and collaboration platform. It's rather the future of communication. Call it a virtual workspace featuring all required resources and tools for an unhindered communication among employees and smooth information flow at all levels. It's all about promoting teamwork for increased productivity and financial savings.
Centralized information:
Business diversification and growth, acquisitions and mergers, and multiple other factors drive rise in data volume and variety. Over 25% of the employees' company time is lost in searching, creating and organizing data, which can otherwise be dedicated to the project work. HyLyt helps centralize all information that employees require for quick and efficient output of a project at hand. Employees can create, process, and store data with a click. Plus, any data can be transferred from any platform anywhere into the HyLyt app, speedily and conveniently.
Information Access:
Accessing data is also a breeze with HyLyt. The saved information across different folders can be sorted using coloured tags and then interconnected for instantaneous access when needed. That saves a significant amount of disk space, eliminates the need for saving several copies of a given file in several folders, and helps get rid of files no longer required. You can find information using filters like Date, File type, tags, folder, and more. Thinking about new technologies in business communication? HyLyt by SocioRAC has to be one among them.
Information overload hinders information access. At HyLyt, we know it just too well. Our platform allows you to narrow down your search on multiple parameters, ensuring accurate information access in the least time possible. Sharing the processed data with a larger audience through Facebook, Twitter, LinkedIn and other social media platforms is also easy with HyLyt. A click is all you need. When the shared content is selected, copied or sharedon social media, the HyLyt background service activates automatically, allowing you to save the content without exiting the screen. That's one reason why HyLyt is the future of development communication.
Have a new employee onboard? No problem, HyLyt helps you to bring him/her up to speed and hit the ground running. All the relevant information can be transferred from a previous user to a new one, just like that. Worried about the misuse of the shared data? Breathe easy, HyLyt helps you hamper the data being shared or forwarded by the recipient at user and content levels.
Information Security:
If data security is a priority, HyLyt exceeds your expectations. Our platform has all the features to keep your interaction and communication data anonymous, no matter what. We deploy 256 bit encryption technology to ward off any intrusion attempts. Simply put, the data is accessible to authorised employees only based on the geo location. In case there's a need to delete data for users or pull back the shared data to avoid misuse, feel free to do it instantly and remotely.
HyLyt takes data security to the next level with multi-level app security. Just put together a 6 digit pass code, all your pertinent information will be locked in the application. The data will stay protected even if your phone is unlocked. Plus, there's an added option of password protecting selected folders and files for complete peace of mind. If that doesn't impress you, how about an option to restrict employees from sharing the information sent to them?
The bottom line:
HyLyt by SocioRAC is at the cutting edge of technology, designed to keep your communication and interactions flowing smoothly at all levels, minus the worry of data theft.